SANTO DOMINGO PROJECT – SAN JUAN, ARGENTINA
AbraSilver has entered into an option agreement to acquire a 100% interest in the Santo Domingo project, favourably located at low-altitude in the mining-friendly San Juan province, Argentina. The project is located within a historical mining district with no previous modern exploration.
Highlights
San Juan Province is mining friendly

Located in a historical small-scale mining district with no modern exploration/drilling.

Evident widespread porphyry and associated mineralization potential demonstrated by mapping and sampling.

A total of 925 samples have been collected at Santo Domingo, and geophysical surveys completed.

The Divisoria gold-copper porphyry (700 meters diameter) has early gold (copper) disseminated mineralization and narrow vein and breccias with high grade gold and silver.

El Arriero is a strong porphyry style alteration zone with an area of 700x500m having disseminated and veinlet hosted copper sulphides.

El Arriero West has a vein system with grades of up to 25.5 g/t gold and 35 g/t silver. A channel sample across the structure assayed 19.7 meters at 2.1 g/t gold and 2 g/t silver, including 0.5 meters at 25.5 g/t gold and 14 g/t silver, etc.

The structural controlled shear system at Yvette extends about 3 kilometers along strike and has old mine workings. Channel sampling includes 1.4 m @ 26.4 g/t Au and 2,538 g/t Ag, etc. Sampling has confirmed continuity of gold silver high grade for a minimum of 700 meters.
Santo Domingo/Marano Overview
The project area is located in the Sierra de La Huerta in San Juan Province, at an altitude of around 1,200 meters. There is a paved road 20 kilometers to the east of the project and the area is about 120 kilometers east of the capital, San Juan.
San Juan Province is host to several major mines and projects, including Veladero (Au), Barrick; Pascua Lama (Au, Ag) Barrick; Gualcamayo (Au) Yamana; Casposo (Au, Ag) Troy Resources; Los Pelambres (Cu) Antofagasta; Los Azules (Au Ag) Minera Andes; Altar (Cu, Au) Peregrine; El Pachon (Cu), Xstrata.
The geological belt of Sierra de La Huerta is made up of Precambrian metamorphics and Paleozoic intrusives and volcanics, rhyolite porphyries, granites, tonolites, dacitic and andesitic porphyries. Historic mining for lead, silver and gold has taken place. There appears to be widespread mineralization at the Santo Domingo project, with copper/gold-porphyries, breccia pipe and epithermal targets. The two main exploration target styles are:
Disseminated porphyry style gold-copper and shear hosted, at Divisoria, El Arriero, Alunita and El Bronce.

Peripheral, high grade gold-silver polymetallic, narrow structures, at Yvette and El Arriero West.
Santo Domingo/Marano Location Map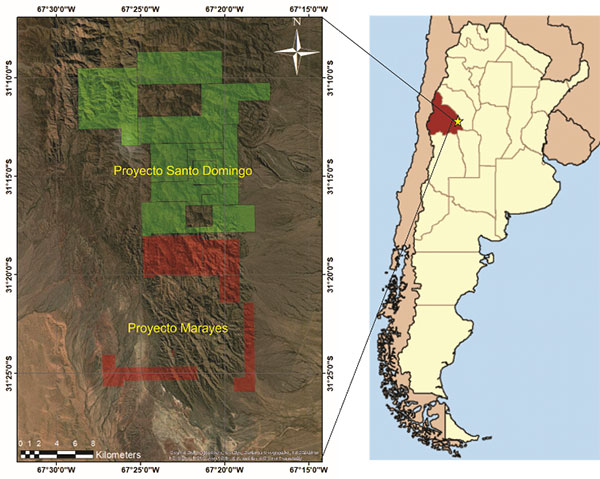 Previous Exploration Work
Previous exploration work on the Project was completed by Orocobre Limited and Elementos Limited. Five prospects have been identified at Santo Domingo Project, corresponding to different levels within the porphyry environment. The conceptual geological model proposed for Santo Domingo grades from deeper to shallower as follows:
El Arriero: copper porphyry with molybdenum anomalies and peripheral gold-silver structures.

El Arriero East: copper-gold porphyry with overlapping of argillic alteration.

Divisoria – gold-copper porphyry cut by late stage high grade gold-silver veins and breccias.

Alunita: transition porphyry – epithermal.

El Arriero West and Yvette: high grade gold-silver (polymetallic) intermediate sulphidation narrow structures controlled by shear zones, peripheral to porphyry systems.
The Divisoria, El Arriero and El Arriero East porphyries are on the borders of a 2 kilometre diameter circular anomaly, potentially related with a large intrusive center at depth. The mineralized structures of El Arriero West and Yvette are in the periphery of the circular anomaly.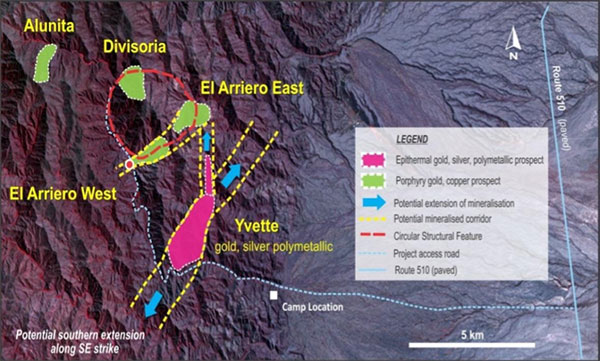 Table 1 – Historical results
| | | | |
| --- | --- | --- | --- |
| Sample | Au g/t | Ag g/t | Cu % |
| 30515 | 4.64 | 35.8 | 0.56 |
| 200000 | 1.13 | 31.4 | 0.02 |
| 200001 | 3.21 | 331 | 0.01 |
| 600005 | 2.76 | 27.8 | 0.12 |
| 600019 | 1.29 | 17.1 | 0.05 |
| 150017 | 7.65 | 2 | 0.01 |
| 150020 | 1.14 | 1.6 | 0.01 |
| 11304-C | 21.87 | 13.7 | 0.01 |
| 11306-C | 40.07 | 25.2 | - |
Santo Domingo Mineralization Samples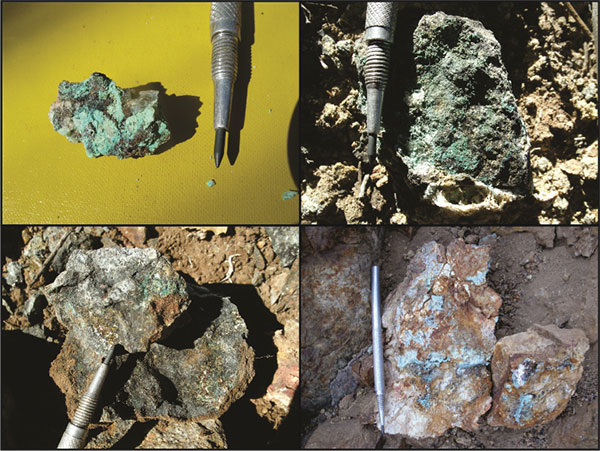 Exploration objectives
Numerous target areas have been identified in the Santo Domingo project. These target areas have coincident geophysical, geological and geochemical characteristics that are consistent whit the presence of Au-Cu mineralized porphyry-type intrusive either at depth, with a high grade gold-silver (polymetallic) intermediate sulphidation narrow structures controlled by shear zones.
Next steps
As part of its exploration objectives, AbraSilver has decided to set up a local team in the province of San Juan. By mid-2021 the Company has the following exploration objectives for the Santo Domingo project:
Review of data, ground reconnaissance and submission of an EIR for exploration. Our local team is working in the compilation of the previous information, as well as, in getting all the necessary information for the EIR.

Geological mapping and surface geochemical sampling. Previous companies carried out considerable geological mapping and geochemical sampling, which should allow us to focus on areas of greatest potential.

Phase one reconnaissance diamond drilling. AbraSilver is planning to complete a first stage of reconnaissance diamond drilling which could include an initial 8 x 300m diamond holes, three at Divisoria and five at El Arriero.